CONTACT US
HQ:Xinhua Park,Economic Development Zone,Cangzhou City,Hebei Province,China
Tel: +86-317-3051805
Fax: +86-317-3051835
WhatsApp:+971-564395756
Email: info@fdpetrol.com
Russia Moscow Office
+791-53053973
UAE Dubai Office:
+971-564395756
Decanter Centrifuge
FD Petrol as the first oilfield decanter centrifuge manufacture in China since 1995,the only decanter centrifuge manufacture in China who has water&OBM test platform,mud test lab. totally more than 1800 units decanter centrifuges jobsite worldwide in all harsh environment for barite recovery, solids control service ,

dewatering unit

and

drilling waste management

.
FD Petrol gear box drive or PLC decanter centrifuge utilize SS304/316L stainless steel material bowl, screw conveyor welded with tungsten carbide tile or hard facing, matched with advanced PLC panel fully meet your jobsite requirement.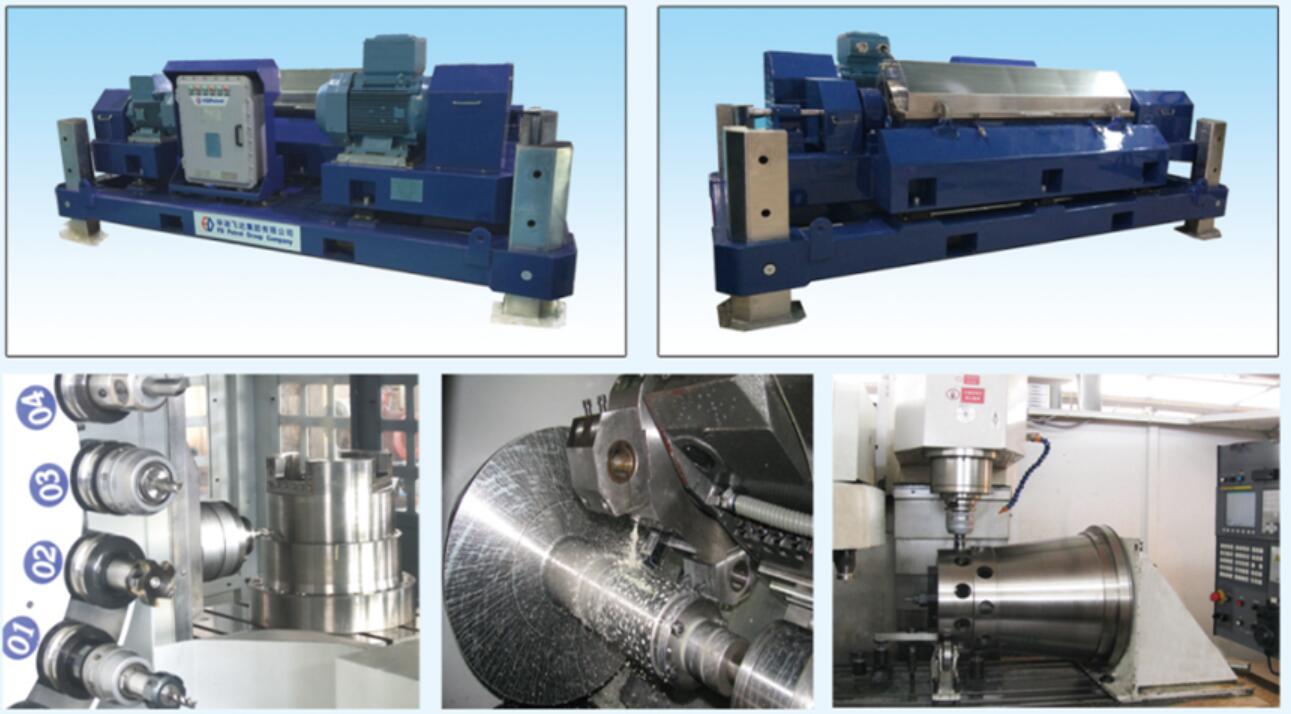 Solids Control & Barite Recovery Centrifuge Specs
Model

FDLW450-

842

FDLW600-945

FDLW355-

1250

FDLW450-

1250

FD-1865

C

apacity

40m³/h

60m³/h

40m³/h

60m³/h

90 m³/h

Bowl Dia

18inch

24inch

14inch

18

inch

22inch

Bowl Length

33.2inch

37.2inch

49inch

49inch

73.4inch

Speed

2200RPM

1600RPM

0-3400RPM

2500PRM

2600RPM

G-Force

1219

860

3180

2250

1700

Cut Point

5~7μm

5~7μm

2µm

5-7μm

2μm

All Motors &Control Panel Comply With ExdIIBt4 or IEC, ATEX Standard
Drilling Waste Management Centrifuge Specs
Model

DW-2000

Max Design Speed

4000RPM

Max Operation Speed

0-3200RPM

Max Design Torque

11000Nm

Working Torque

7000Nm

Control Panel

PLC

Stainless Steel

Explosion Proof

Screw Protection

Tungsten Carbide Tile

Electrical Components ABB&Schneider
Waste Management Centrifuge Features
1.Optimized fluids inlet system minimized the breakage for the material during feeding, result in more effective treatment
2.The inside structure adjustment satisfy the high percentage solids contain in drilling waste retreatment and big volume solids discharge requirement .Our high pulling torque and power features design can meet different worksite needs.For oil based mud treatment ,oil on the solids 10%-13%
3.According to different geology requirement for drilling waste treatment, the electric control system adopt VFD design for main motor, back motor and pump motor ,ABB frequency convertor,explosion proof control panel .Compact and stable in operation, fast and convenient in maintenance .
4.Anti-plug system, when plug happens, the centrifuge will enter into automatic control, eliminate the plug,make the centrifuge work normal again, completely eliminate centrifuge bowl plug problem.
---
FD Petrol Drilling Waste Management & Solids Control & Rig Camp