CONTACT US
HQ:Xinhua Park,Economic Development Zone,Cangzhou City,Hebei Province,China.
Tel: +86-317-3051805
Fax: +86-317-3051835
WhatsApp:+971-564395756
Email: info@fdpetrol.com
Russia Moscow Office
+791-53053973
UAE Dubai Office:
+971-564395756
Thermal Desorption Unit (TDU) is an energy recovery system which removes the chemical contaminants from soil ,

dill cuttings waste

,oily sludge and other solids waste by heating the material at low temperature and oxygen free condition.

The alkane and other substances contained in the

oily sludge

are converted into three phases: gas, liquid and solid.Vapors are cooled in the condenser and discharged to a liquid recovery tank. Solids arel cooled down prior to recycling or backfilling. Avoid secondary pollution to the environment。

FD Petrol

thermal desorption system

composed of feeding system,rotating heat exchanger,air emission purification unit,oil water separation unit,automatic control system.Suitable for oilfield sludge ,refinery sludge ,disposed oil based drill waste and other various mixed domestic garbage sludge. After treatment ,the oil on solids <0.3% which is better than《Control standard of contaminent in agriculture sludge》(GB4284-2018) Grade B 0.3% rated value.Air emmission comply with 《Oil refinery industry contaminent discharge standard》(GB31570-2015).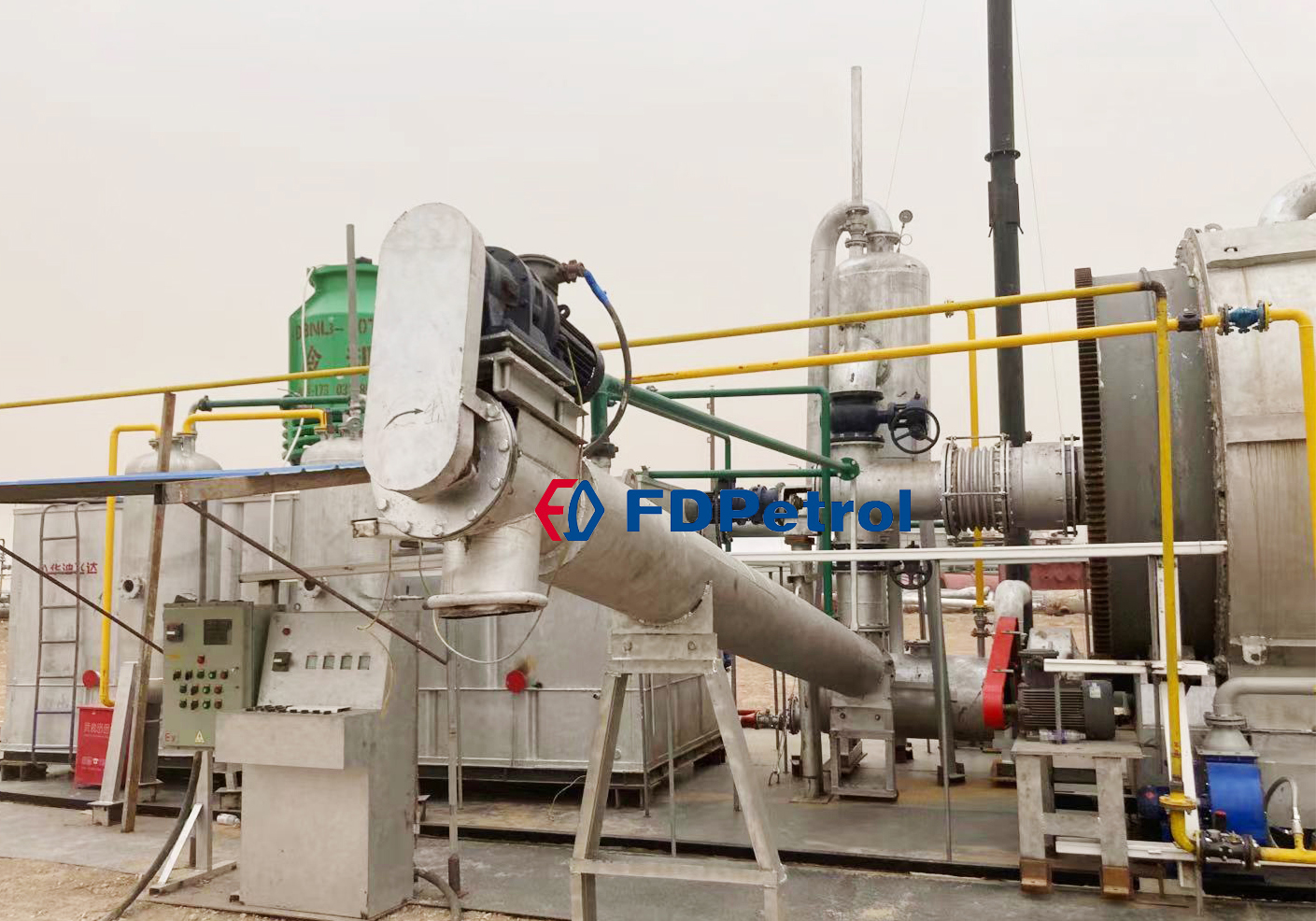 Oil/Natural Gas/Recovered Fuel

FD Thermal Desorption Unit (TDU) Working Process

1.Feeding:screw conveyor or belt conveyor feed the material into heating chamber

2.Heating:The main part in this system is the processor module. The processor module is integrated with all the necessary equipments to heat up the waste material to the required temperature.

3.Oil water separator:The vapourevaporated in the process is discharged into the first condensation stage, where the oil is liquefied by use of cooled condensate. The recovered oil will be discharged directly from this stage. In the second condensation stage the water also is liquefied by use of cooled condensate. A number of heat exchangers are built into the system, to cool down condensates and recovered liquids to the required temperature.

4.Exhaust gas recycling: In the process of heating pyrolysis sludge, in addition to oil and gas, some combustible but non-condensable gas will also be generated. This gas will be fully burned by the combustion machine at the bottom of the furnace, and fuel can also be saved.

5.De-dust :The dust and smoke generated during heating will be purified to local standard then discharge.

6.Solids discharge:After thermal desorption treatment,the oil on material content will be <0.3% which can meet the environment and industry standard,the solids will be discharged through fully-sealed discharged device to ton bags ,avoid dust during whole process.
---
FD Petrol Drilling Waste Management & Solids Control & Rig Camp