CONTACT US
Headquarters:Xinhua Park,Economic Development Zone,Cangzhou City,Hebei Province,China
Tel: +86-317-3051805
Fax: +86-317-3051835
WhatsApp:+971-564395756
Email: info@fdpetrol.com
Russia Moscow Office
+791-53053973
UAE Dubai Office:
+971-564395756
Dewatering Unit
FD Petrol explosion proof 20ft containerized automatic dosing unit is a high stand chemical dosing unit, solids and liquids separation and chemical dosing process is continuous, closed and stable.PLC system automatic warning for lack of polymers and avoid dry running. Through coagulants and flocculants technology to make the ultra fine particles (≤2microns) aggregate into large mass ,then separate by dewatering centrifuge.

| | |
| --- | --- |
| Model | ADU -02 |
| Dosing Capacity | |
| Acid Tank | |
| Coagulation Tank | |
| Flocculation Tank | |
| Automatic Dosing Machine | |
| Dosage Screw Pump | Speed adjustable ,flow rate:20m3/h |
| Mud Agitator | |
| Static Mixer | 2 sets |
| Electromagnetic Flow meter | |
| Ex-proof Air Conditioner | |
| Electric Control | |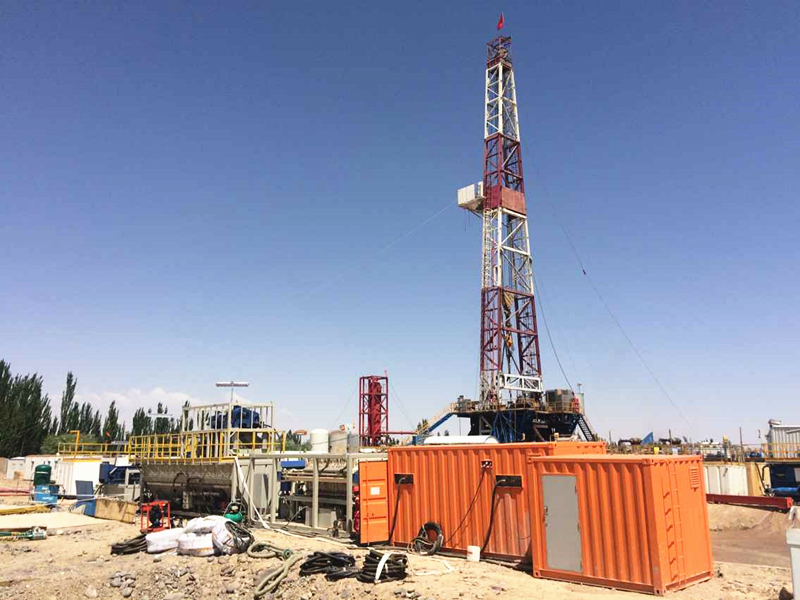 Liquid phase zero discharge: liquid from first phase centrifuge can be used as active mud, second phase liquid from filtration unit reach discharge standard, three phase drinkable water.
Solids Phase :Through Remediation technology,satisfy State earth quality standard, can be used for landfill, road spread, and re-agriculture.
Data Taken from Wellsite Test Center

Features&Benefitrs of FD Dewatering Unit:
1.Adopt international famous chemical assistant centrifugal separation technology, solids phase separation and chemical pill mixing is continuous, closed and stable operation, less personnel and chemical cost.
2.Chemical pill mix, flow capacity adjustable, water quality test work integrate in containerized mud lab, easier operation, better working condition for high standard chemical mixing.
---
FD Petrol Drilling Waste Management & Solids Control & Rig Camp