CONTACT US
HQ:Xinhua Park,Economic Development Zone,Cangzhou City,Hebei Province,China.
Tel: +86-317-3051833
Fax: +86-317-3051835
WhatsApp:+971-564395756
Email: info@fdpetrol.com
Russia Moscow Office
+791-53053973
UAE Dubai Office:
+971-564395756
FD Petrol ADIPEC Show Arouses the Attention of MENA
At ADIPEC 30 year's anniversary, FD Petrol is proud of being one of the exhibitors and give good first impressed to MENA customers.Our 20000 square meters factory in UAE Shajah will give better delivery and service for MENA customers.
FD Petrol well furnished 40 square meters booth, displayed our DW2000 centrifuge and SGL-02 Verti G Cuttings Dryer .As the first oilfield decanter centrifuge and cuttings dryer manufacture from China ,FD Petrol is proud of our great jobs when facing global challenge—drilling waste management . Together we can do so much to help recycle and reuse of the drilling waste.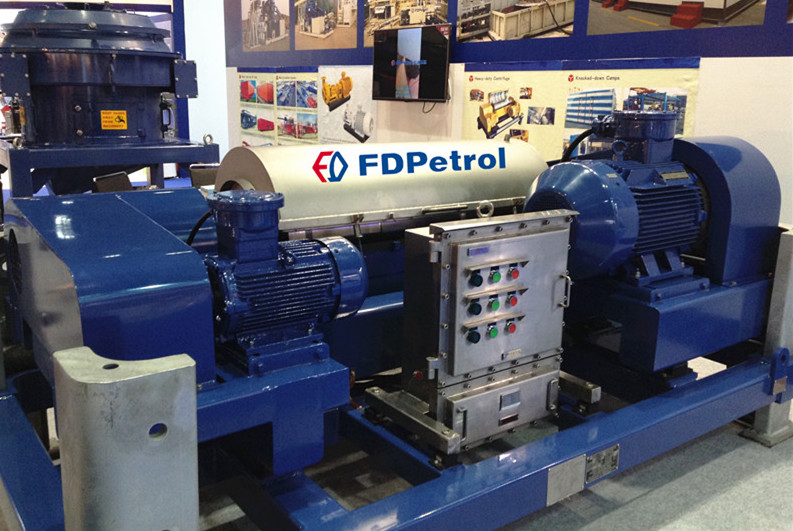 The role of FD Petrol Verti G Cuttings Dryer and Decanter Centrifuge in drilling waste management. To be mentioned, FD Verti G and centrifuge is not the final treatment or one stop solutions for drilling waste. They are the main online or process treatment equipment, which can help drilling contractors get clean and dry location, save waste transportation and afterward treatment cost.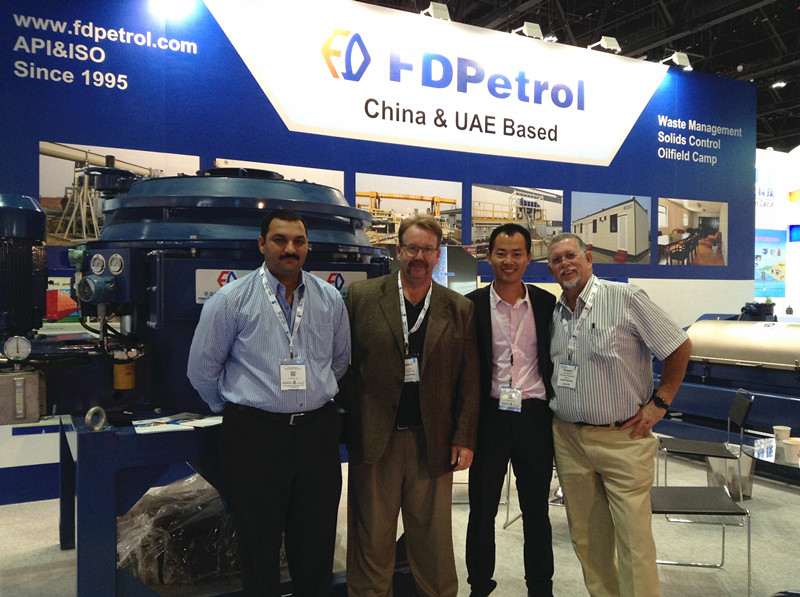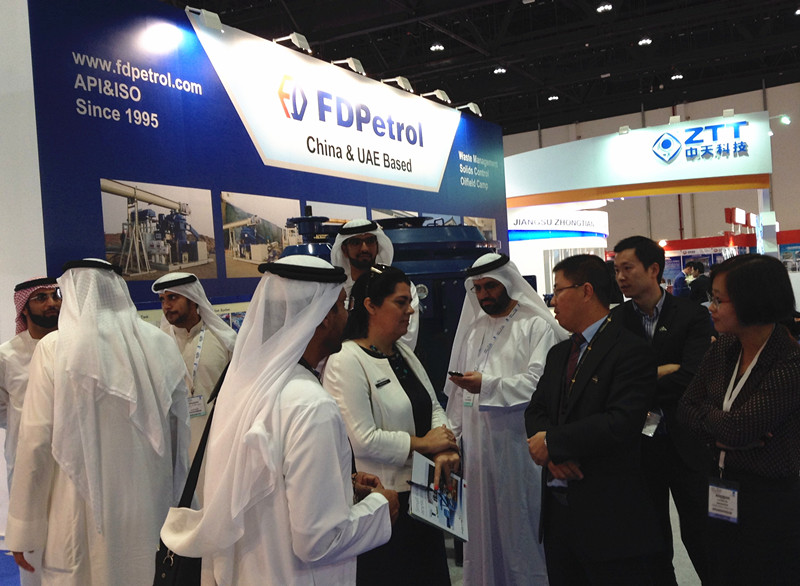 Advantages of Verti G SGL-02 Cuttings Dryer
1.The new model with floating flights ,the new design has even better drying result than SGL-01 ,the best drying performance is around 3% OOC .
2. User friendly design such as the top cover opening device already got patent design ,which save a lot of time and energy during maintenance and trouble shooting.
3.Circle water flushing pipe instead of spray nozzle,bigger flushing area and better flushing performance.
4.22kw main motor and 0.37kw oil pump motor rather than 55kw and 0.55kw ,but still rotating at 900RMB and generate 400G force, energy saving.
FD Pertol DW2000 Decanter Centrifuge VS DE1000 or Swaco 518
The DW 2000 decanter centrifuge is specially designed for high solids content ,heavy gravity mud .The inside structure adjustment satisfy the high percentage solids contain in drilling waste retreatment and big volume solids discharge requirement .Optimized fluids inlet system minimized the breakage for the material during feeding, result in more effective treatment .Special main body structure design highly decreases the liquid phase peracentage in discharged solids and solids phase percentage in recycled fluids.
---
FD Petrol Drilling Waste Management & Solids Control & Rig Camp