CONTACT US
Headquarters:Xinhua Park,Economic Development Zone,Cangzhou City,Hebei Province,China
Tel: +86-317-3051805
Fax: +86-317-3051835
WhatsApp:+971-564395756
Email: info@fdpetrol.com
Russia Moscow Office
+791-53053973
UAE Dubai Office:
+971-564395756
DW2000 Centrifuge
DW2000 high speed ,high pulling torque VFD centrifuge is a newly and specially designed centrifuge for dewatering use. Main function is the retreatment for the water based mud and oil based mud drilling waste. It can replace traditional

solids control centrifuge

, with better performance,

especially when treating with 70% high solids content , 1.8g/cm³ high mud weight drill waste.
FD Petrol DW2000 decanter centrifuge utilize 316L stainless steel material bowl, screw conveyor welded with tungsten carbide tile , matched with advanced PLC panel special designed for drilling waste management treatment.It is the best partner for
SGL-02 cuttings dryer
.

Drilling Waste Management Centrifuge Specs
Model

DW-2000

Bowl Diameter
14 inch
Bowl Length
57 inch

Max Design Speed

4000RPM

Max Operation Speed

0-3400RPM

G Force
3180 G

Max Design Torque

12000Nm

Max Working Torque

7000Nm

Control Panel

PLC

Stainless Steel

Explosion Proof

Screw Protection

Tungsten Carbide Tile

Electrical Components ABB&Schneider
Waste Management

Centrifuge Features
1.Optimized fluids inlet system minimized the breakage for the material during feeding, result in more effective treatment
2.The inside structure adjustment satisfy the high percentage solids contain in drilling waste retreatment and big volume solids discharge requirement .Our high pulling torque and power features design can meet different worksite needs.For oil based mud treatment ,oil on the solids 10%-13%
3.According to different geology requirement for drilling waste treatment, the electric control system adopt VFD design for main motor, back motor and pump motor ,ABB frequency convertor,explosion proof control panel .Compact and stable in operation, fast and convenient in maintenance .
4.Anti-plug system, when plug happens, the centrifuge will enter into automatic control, eliminate the plug,make the centrifuge work normal again, completely eliminate centrifuge bowl plug problem.

FD Petrol single screw pump is a kind of positive displacement pump, which can deliver media with different density and viscosity ,the best feeding pump for decanter centrifuge.Rigid rotorrotates in the elastic stator (usually made of rubber) to deliver medium. In addition, rotor is a rod component with single-end external thread, while stator is a sleeve component with double-end internal thread, which forms a continuous sealing line in a threaded shape. At the time of working, the seal cavity, which is formed by threaded sealline, moves forward continuously to deliver media in the cavity.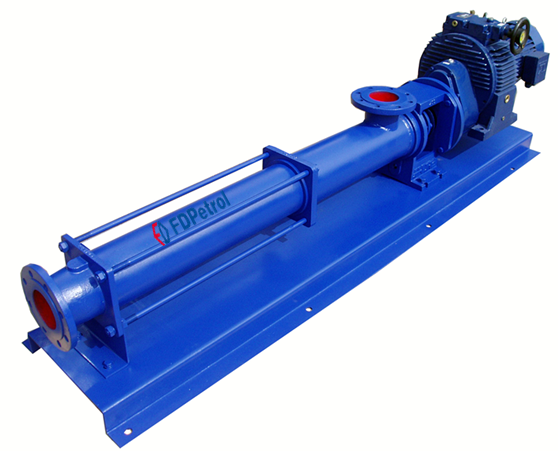 FD LGB Positive Displacement Pump Spec
Pump Model
LGB25
LGB60
Capacity
4.5-25m³/h
40-60m³/h
Working Pressure
0.3Mpa
Speed
80-400RPM
Motor
7.5kw Explosion Proof
11kw Explosion Proof
Fluids Touch Material
SS316L
Speed Adjustable
By Handrail
---
FD Petrol Drilling Waste Management & Solids Control & Rig Camp